Healthcare coverage plans difference
There are 10 Medicare Supplement Insurance plans lettered A through N. Each plan differs in the amount of coverage provided for the "gaps" left behind by Original Medicare.

Medicare Supplement plans, also known as Medigap plans, are offered by private insurance companies licensed by Medicare. Each is required by Medicare to have standardized coverage and plan letters no matter which insurance company you purchase them from. The only difference you'll find among plans is price of premium.

We have broken down the coverage of each Medigap plan below so you can make an informed decision about your healthcare coverage.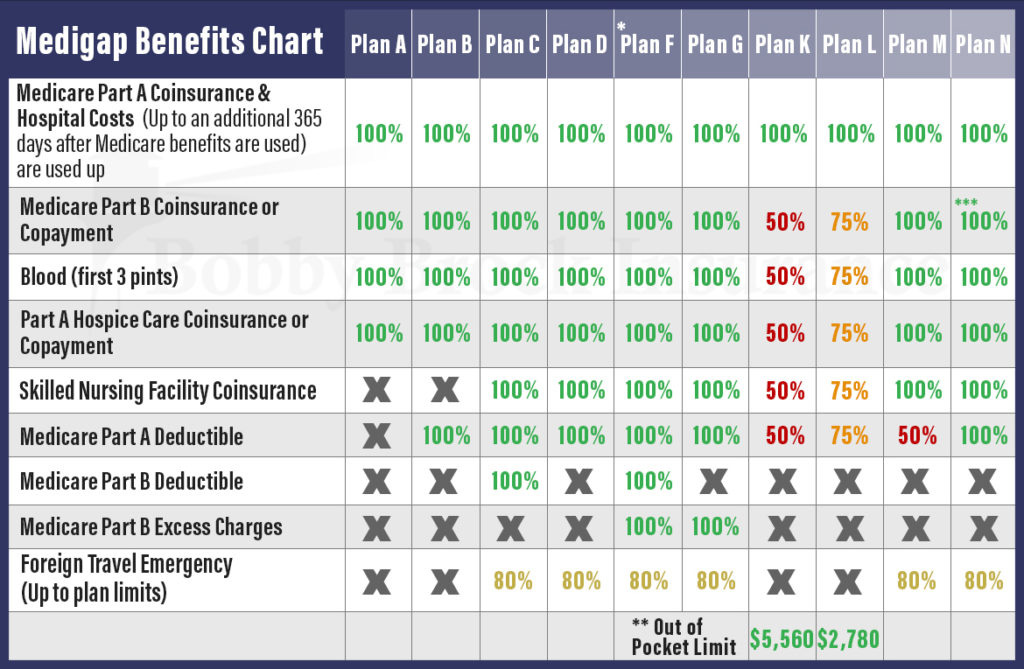 Which Medicare Supplement Plan is the best?
As you can see from the chart below, Medicare Supplement Plan F provides the most comprehensive coverage. Plan F covers:
Original Medicare Part A's deductible
Part B deductible
Part B excess charges
Part A coinsurance and hospital costs up to an additional 365 days after Medicare's benefits are all used up
Part B coinsurance or copayments
First three pints of blood used in an approved medical procedure
Skilled nursing facility coinsurance
80% of a foreign travel emergency (up to plan limits)
Because of the peace of mind it offers, Plan F is one of the most frequently purchased Medigap plans. Plan G is another frequently purchased supplement plan because it offers almost the same coverage. The only thing Plan G does not cover is Medicare Part B's deductible, which is only $185 in 2019. If you can find Plan G significantly cheaper than Plan F, it might make fiscal sense to pay the one-time Plan B deductible and save on the monthly premium of your supplemental plan.
Get Medicare Help from an Expert
If you see a plan above that seems like a good fit for you, or you need more help deciding, give one of our licensed Medicare agents a call and we can help you find a plan to fit your budget and healthcare needs!